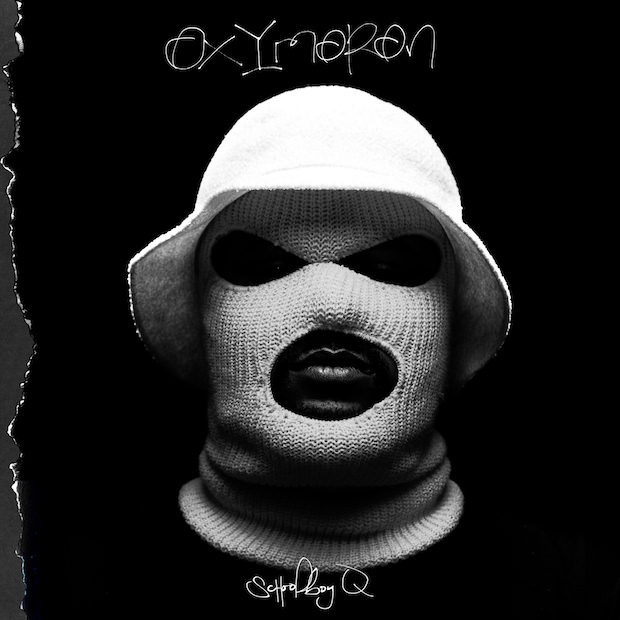 GENRES: Hip-Hop, Commercial Hip-hop, Trap Hip-Hop
TOP TRACKS: Los Awesome, Collard Greens, Hoover Street, The Purge, Blind Threa
Schoolboy Q is just the next in line to release his major-label debut from TDE. First came Ab-Soul and Kendrick Lamar with Control System and GOOD Kid m.A.A.d City and here is the heavily hyped Oxymoron. Schoolboy Q in my mind is the least interesting member of 'Black Hippy' as Kendrick is clearly the top player from the group, followed by the unpredictably wild Ab-Soul and the very classic style of hip-hop Jay Rock. Q has always been a rapper who is slightly better than average. There are times where his outlandish portraits celebrating a lifestyle of gang-banging and partying can be sort of overplayed but for the most part he can deliver good verses at the right moment.
The first exposure I had to this album was the single 'Collard Greens' featuring Kendrick Lamar and I loved and still love this track. The beat is so minimal but the rapping is really the main attraction on this stripped down, synth-light track. It's safe to say Oxymoron is one of the most hyped hip-hop projects of 2014 so far but considering how much I love Control System and GKMC, I grew worried that Q's new album would not be able to live up to the hype of his TDE teammates. After a few listens, this album wasn't really anything more than I expected but it wasn't disappointing either. In fact, I think this album is definitely another hit for TDE as they continue their domination over the modern field of young rappers.
The track 'Los Awesome' with Jay Rock was a strong beginning to this record to say the least. I loved the beat and overall vibe of the track and Jay Rock absolutely bodied his verse on this song with some angry rapping over the synth beat that walks the line between epic and corny daringly and succeeds. I also thought this interesting beat really fit Schoolboy Q's straightforward style of rapping and still managed to keep the song interesting throughout.
But then I was reminded why I was never the biggest Q supporter through 'What They Want' a mindless piece of music with a lullingly boring instrumental and a lackluster appearance from 2 Chainz. The slow trap style is cliched and Schoolboy Q is not an interesting enough rapper to hold his own through such a boring beat.
I did however enjoy the creativity and variation on the beat and verses on 'Hoover Street'. The intro beat is very interesting with the drum and bass sample as Schoolboy Q raps pretty well but the beat changes into a really simple yet dark mood with a bit of a half-time feel and it really takes the track into an unexpected but interesting direction that makes Schoolboy Q's accompanying rap sound kind of menacing and angry.
'The Purge' was another favorite of mine because of the contributions of Tyler, the Creator and Kurupt. Tyler's voice is always a unique addition to any track he is on for better or worse and I'm glad they decided to throw him on the hook rather than give him a verse on an already rap-heavy track. Schoolboy Q's flow and wordplay is really high-level on this track and of course the west coast legend Kurupt ushers in the new of West Coast hip-hop once again on Oxymoron with a signature verse.
Also, I was particularly excited to see one of my personal favorite MC's, Raekwon on this track listing and I wasn't disappointed by 'Blind Threats' as a rather mellow beat with a really cool Xylophone sample in the background was thrown Raekwon's way and he delivered a very classic verse reminding everyone that he should not be overlooked as one of the best (if not the best) Wu-Tang members.
It felt like for every extraordinary or well done moment on this record, there were 1 or 2 lackluster or exceedingly average showings from Schoolboy Q. Granted, he is not an amazing lyricist but he can hold his own, his rapping was overshadowed a good amount by guests or stellar production. For crying out loud, the record has his name and face on the cover, I think he should have proved himself a little more as a rapper on the album. Although there's nothing wrong with being careful and playing it safe I guess, especially on a major label debut. However, this could have been more of a risk in terms of the rapping on this record.
Nonetheless, Schoolboy Q's project did not disappoint everyone. There will be people who love this album and keep it playing throughout the year, and while I won't be one of those people, I can say I will definitely keep listening to 'Los Awesome', 'Collard Greens' and 'Hoover Street' for the foreseeable future. Q definitely needs the crutch of TDE at this point of his career, but who knows. Maybe one day he'll be his own rapper and find his own defined style, until then this will do.
FINAL SCORE: 7 / 10